Pre-Order Your 2023 Honda CR-V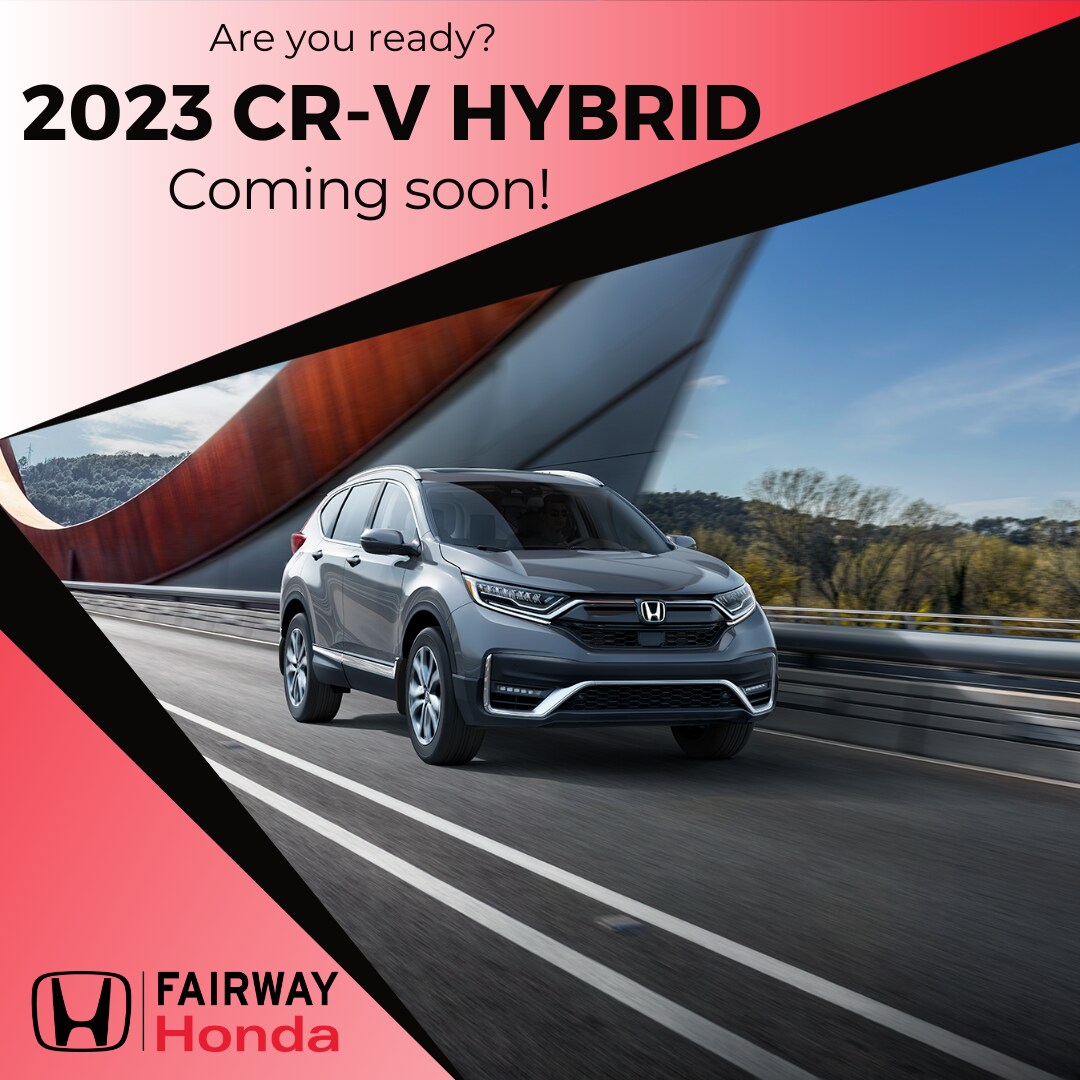 Pre-Order Your 2023 Honda CR-V
As one of North America's favourite compact SUVs, the Honda CR-V has high expectations for the 2023 year. With the Hybrid version finally being brought to Canada, this impressive vehicle is sure to win the hearts of many Canadians with its desirable amenities and thoughtful features. Due to its popularity and first-time Hybrid introduction into Honda Canada's lineup, the CR-V is sure to sell fast. That's why you should consider pre-ordering your CR-V to ensure that you are one of the first to snag this compact SUV before it sells out. Browse our new inventory to find Honda's current lineup of new vehicles available for purchase here at Fairway Honda in Corner Brook, Newfoundland.
2023 CR-V Trims/Models explored
As of now, only the names of the trims have been released, but it is likely that the features and trim levels shouldn't stray too far from what we see on the current CR-V, with the exception of the additional hybrid trims. There are six trim options available: the LX, EX-L, EX Hybrid, EX-L Hybrid, Touring, and Touring Hybrid they come in different colours.
2023 Honda CR-V - What's New?
2023 is the first year that Honda is introducing the next-generation CR-V. As the first hybrid CR-V available in Canada, everything is brand-new for Canadians to enjoy. However, as it was first introduced in 2017 for American residents, both the gas-powered and hybrid versions of the CR-V have received some upgrades from the previous years. The most significant and most noticeable change from previous years of the CR-V is the redesigned exterior. A styling overhaul is expected to resemble that of the redesigned Civic. Slimmer headlights, accentuating lines, and an elegant grille are expected to make the compact SUV look more sophisticated.
The interior seems to be getting an upgrade too, with a larger infotainment centre and a possible third row. The extension of the CR-V's length will allow more room for interior occupants and storage and drive it closer to the competition. Other new and upgraded features include updated multimedia software, a more modern interior design, and a brand-new gauge cluster for the driver.
2023 CR-V Hybrid Version
Under the hood, the CR-V configurations offers drivers two options: a gas-powered engine and a hybrid option. Currently, the gas-powered CR-V comes with a 1.5-litre turbocharged four-cylinder engine that produces 190 horsepower and 179 lb-ft of torque. It is expected that this engine will stay the same with possibly a slight upgrade in horsepower to around 200 to 215. The hybrid option of the CR-V is finally available in Canada after increasing demands for fuel-saving hybrids. The 2022 CR-V Hybrid released in the United States was built with a 2.0-litre naturally aspirated four-cylinder engine paired with an electric motor and produced 212 horsepower. The same hybrid engine and electric motor pairing also seem to be carrying over to the 2023 year.
It is speculated that Honda will also be releasing a fully electric version of the CR-V in the coming years after releasing the 2024 Prologue electric vehicle.
Pre Order your Next Gen CR-V
Contact us to learn more about the 2023 Honda CR-V or our pre-ordering process. One of our kind and knowledgeable staff members can help walk you through the steps to purchasing your dream car. At Fairway Honda, we are proud to offer our customers competitive financing rates and comprehensive payment plans that suit their wants and needs. Visit our online finance centre to learn more about our payment plans and options.
Fairway Honda

43 Confederation Drive
Corner Brook, NL A2H 6T2